About ISCEIC 2023
Welcome to the official website of 2023 4th International Symposium on Computer Engineering and Intelligent Communications(ISCEIC 2023)[第四届计算机工程与智能通信国际研讨会]. ISCEIC 2023 will be held in August 18-20, 2023 in Nanjing, China. ISCEIC 2023 is a not-to-be-missed opportunity that distills the most current knowledge on a rapidly advancing discipline in one conference. Focused on hot research topics and difficulties in Computer and Communication, ISCEIC 2023 will explore cutting-edge Computer and Communication Technology, share typical study cases and encourage scientific innovation in this field. Renowned experts and academics in relevant fields will be invited to this conference to deliver keynote speeches, present reports and exchange ideas with attendees on research advancements and challenges.
We are looking forward to meeting you in the very beautiful city Nanjing, China, during August 18-20, 2023. Definitely, ISCEIC 2023 will provide you a pleasant experience, new contacts and happy stay in Nanjing.
Submission Methods

Important Dates

Please submit your paper(word+pdf) to Chinese Submission System(Authors from Mainland China) or English Submission System(only for overseas authors).
Paper Template (Download)
* The manuscript should be written in accordance with the standard of template.


* All submissions must not be less than 4 pages in length and not exceed 12 pages.




Full Paper Submission Date

August 2, 2023

Registration Deadline

August 11, 2023

Final Paper Submission Date

August 9, 2023
Publication
*All full paper submissions to the ISCEIC 2023 could be written in English and will be sent to at least two reviewers and evaluated based on originality, technical or research content or depth, correctness, relevance to conference, contributions, and readability.
*All accepted papers of ISCEIC 2023 will be published in theISCEIC 2023 conference proceedings, which will be submitted toIEEE Xplore, EI Compendex, Scopus for indexing.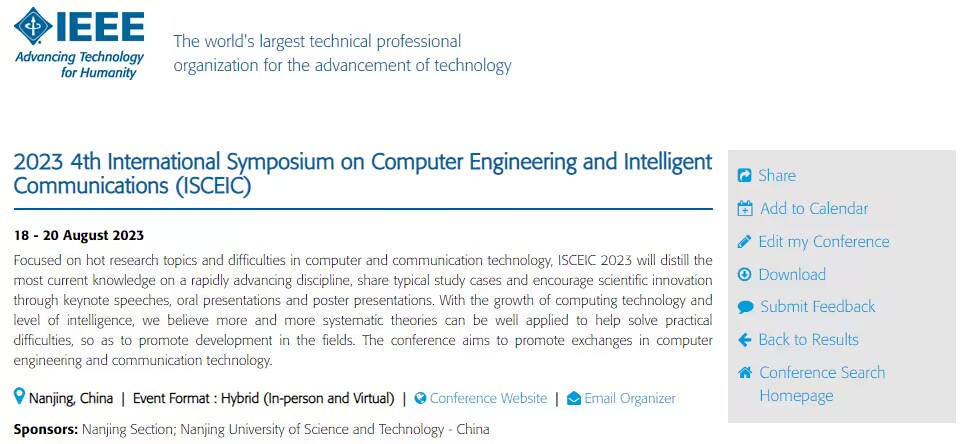 ISCEIC 2020

Guangzhou | Aug. 7-9




ISCEIC 2021

NanJing | Aug. 6-8




ISCEIC 2022

Xian | Sep. 16-18

Conference Proceeding
Sponsor
Organizer
Co-Organizer